KemaTek offers a wide variety of high-purity technical ceramic materials to support the most demanding customer needs. Contact us if you would like help selecting the best, most cost-effective material for your application.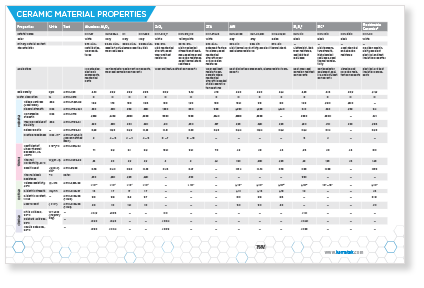 Ceramic Material Properties — All Materials — PDF, 135K
Aluminas (Aluminum Oxide — Al2O3)

Aluminum Nitrides (AlN)

Zirconias (Zirconium Oxide ZrO2)

Zirconia Toughened Aluminas (ZTA)

Silicon Carbides (SiC)

Silicon Nitride (Si3N4)

Additional Materials
Sapphire
Quartz
Machinable Ceramics
Conductive Ceramics
For more information, please contact us.