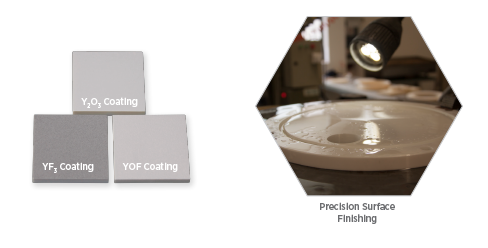 KemaTek offers state-of-the-art surface treatments ranging from advanced lapping and polishing to precision TWAS and plasma spray coatings for new or used components.
Services
Chemical striping and cleaning for large-format components
Fully-automated bead blasting
Plasma spray coatings available in large formats >3,000 mm sq
Materials:

Yttrium oxide — Y2O3
Yttrium fluoride — YF3
Yttrium oxyfluoride — YOF
Alumina — Al2O3

Fully automated 6-axis robots
Leading-edge torch heads
Coating substrates include:

Anodized
Aluminum
Ceramics
Quartz

Twin Wire Arc Spray (TWAS)
Anodization — up to 4,000 x 4,200 mm

Hard and soft
Hot DI seal

Lapping and polishing to 700 mm O.D.
Analysis ­— complete coating characterization
Contact us for more information and to get a quote on your next advanced coating or surface treatment service.